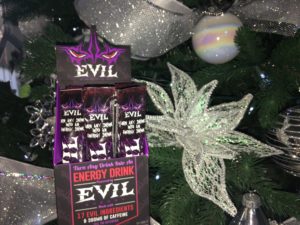 This Christmas, with days and hours of family, friends, travel, food, shopping, walking, and more, the average person will be drinking some form of energy supplement to get them through the day. Whether it's coffee, Red Bull, Monster Energy, 5 Hour Energy, or another high profile energy product, we know that Americans are going to be relying upon something to help them get through their days leading up to the holidays, Christmas Day, and leading them into the New Year.
However, what would make this year's Christmas drink recipes more enjoyable for your guests? Do you want to give them the same old recipes that you give them each and every year? Or, would you rather come up with some new drink recipes that will include a delicious berry flavored boost of energy? The versatility of Evil Energy Evil Berry, allowing you to mix it with any beverage and to adjust the amount according to how much boost you want the drink to have, opens up hundreds or thousands of possibilities for you to offer your guests this year. You are turning any drink into an energy drink just by adding Evil Energy, and you are leveraging the zero sugar deliciousness of their berry flavor to enhance other festive drinks for a new twist.
Yes, you can also simply make them an Evil Energy in some ice water if they ask you for something to help wake them up.  However, you could also utilize the many flavors of BodyArmor, Powerade, and Gatorade to offer them an electrolyte infused power cocktail. Maybe your gym buddy shows up sore and tired from leg-day and doing the holiday grind with his wife or girlfriend at the mall or outlet stores, then you show up with an Evil Energy boosted protein shake or "booster shake" and save his day. Adding Evil Energy to protein infused fruit smoothies for a "booster smoothie", and you have something that both the sore and tired men and women can enjoy. Plus, both are easy to make in your blender, and are easily adjusted to account for more servings for more guests. Do you have an amazing berry flavored margarita, martini, or mojito recipe? Take it to the next level by adding Evil Energy Evil Berry to the recipe, ensuring that no one falls asleep on your couch this year!
The truth is, the sky is the limit in regards to how Evil Energy Evil Berry can be leveraged this holiday season to offer your guests an energy infused cocktail or beverage that will allow them to savor your party until the last moment.
SAVE 40% OFF Evil Energy on Amazon - Coupon Code: "EVILGRAM" - http://amzn.to/2qCN8GI